Montrose County Historical Museum
---
Just a few blocks west of the main intersection in town (Main and Townsend) stands the County Museum which is housed in the original railroad depot that is pictured in the historical photo above. The Montrose County Historical Society was founded in 1968 and acquired the Denver & Rio Grande Depot in 1973.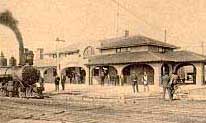 The permanently acquired collection of historical artifacts is due largely to the generosity of the people of the community. The Museum is staffed by volunteer hosts and hostesses.
The Museum focuses on all facets of early-day pioneer life, highlighted by a walk-through of a Homesteader's Cabin. This cabin is equipped with furnishings and memorabilia of one family who owned the cabin. The Museum is noted as having one of the most extensive collections of Farm Machinery in the state. Horse-drawn reapers, planters, plows, and a hay baler are among the collection. The Museum's "County Store" exhibits wares and household objects needed for early-day living, along with a collection of tools. The Children's Corner contains exhibits of dolls, toys, and baby furniture that will delight both youngsters and adults. Some of the permanent displays of the Museum include musical instruments, clothing items, and mining, farming, and medical equipment. The Museum's Library contains a complete set of Montrose newspapers from 1896-1940, a photo collection of the Montrose area, historical publications, and oral histories.